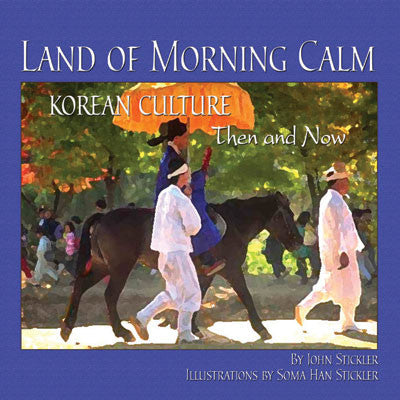 Land of Morning Calm: Korean Culture Then and Now
---
By John Stickler
Illustrated by Soma Han
$16.95, Hardcover, 32 pages
English Text
Ages 7-12
ISBN-10: 1885008228
ISBN-13: 9781885008220
What was life like in Ancient Korea? What did people eat? What did they believe in? How is it different now?
Take a journey to both ancient and modern Korea, where you will find a rich world of history and traditions that will capture your imagination and whet your appetite for learning more about this fascinating culture.
Read about the legend behind the founding of Korea, the meaning of the flag, and the creation of the Korean alphabet. Learn how to make kimchi, how to celebrate Korean holidays, and how people ironed their clothes before electricity. Every page explains an aspect of Korean culture and its changes through the years.
As North and South Korea quickly become important players in global politics, Land of Morning Calm gives us a better understanding of the people behind the news and the traditions we don't get to see on television. It opens a window into another way of life, reminding us once again that we are all as similar as we are different.
---
Share this Product